FAQs

eWasteNL is a private, locally owned company in Mount Pearl that has collected and recycled electronics since 2008.


ERPA-NL is the Newfoundland and Labrador branch of a not-for-profit organization (the Electronic Products Recycling Association) that represents electronics manufacturers and Canadian retailers in their efforts to operate in accordance with applicable provincial electronic waste management legislation. In 2013, EPRA-NL was approved by our Multi Materials Stewardship Board (MMSB) to manage a program for end-of-life electronics in Newfoundland and Labrador.

From eWasteNL's perspective, what is the role of EPRA-NL in our Province
EPRA-NL is mandated by the Government of Newfoundland and Labrador to ensure cost-effective, safe, environmentally friendly disposal/recycling of electronics. EPRA-NL's service plan is approved in advance by the MMSB.


EPRA-NL's programs are funded through environmental handling fees (EHFs), which are collected by retailers on the sale and distribution on new electronic products regulated in Newfoundland and Labrador.
EPRA-NL collects and consolidates local electronic waste, then ships it to Quebec for processing by a company which has been audited and approved under the national recycling qualification program.

Why can't the EPRA have e-waste processed here in the province?
eWasteNL believes the following to be the reasons why:
Shipping their e-waste to Quebec for processing is the most cost effective method for EPRA-NL to deliver it's program.

eWasteNL does not necessarily think that this represents the most cost effective way for consumers in the Newfoundland and Labrador to have end-of-life electronics processed and/or disposed, but alternatives would ultimately be in the hands of the government.


While eWasteNL does continue to process electronics in St. John's, our facility does not currently qualify for certification under the EPRA's Recycler Qualification Office's (RQO) criteria. The RQO has been h

elpful and supportive to us in the past and is awaiting updated documentation of

eWasteNL's ongoing efforts to upgrade, improve and diversify its processing facility.
Does eWasteNL transfer materials to EPRA-NL?

Indirectly. eWasteNL transfers some of the electronic waste it collects to one or more of EPRA-NL's
designated public collection depots, who, in turn, essentially reimburse us for our labor and handling costs.

Why does eWasteNL only transfer some electronics to EPRA-NL collectors?

Electronic waste is divided into three main classes:


A. Display devices such as TV's and computer monitors.

B.
Computers and laptops.

C.
Printers, scanners, audio equipment, etc.


Classes A and C have little or no residual value, are bulky and expensive to process, and often contain hazardous materials.


These are the materials we transfer to EPRA-NL collection depots, for final processing in Quebec; typically with multi-million dollar shredding equipment.


As one might expect, these are the classes of materials EPRA-NL must pay the highest dollar amount per tonne for processing.


Class B materials contain base metals and traces of precious metals, and therefore have a residual recycling and/or recovery value.


Class B materials are typically what eWasteNL demanufactures (disassemble into basic parts) at our processing facility in St. John's.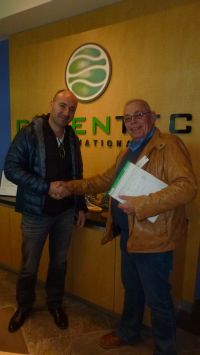 What happens to the computers and laptops that eWasteNL demanufactures at its plant?

After "front-end processing" in Mount Pearl, the various components and materials will be sold to
Greentec Environmental Recycling
in Cambridge Ontario for final processing and/or shredding.


Greentec is a member of the Ontario Electronics Stewardship and, as of its last audit, holds a Triple A compliance rating with the EPRA.


eWasteNL and Greentec
are recycling partners.


Thus, every piece of program eligible electronics that comes through the front door of eWasteNL, ultimately winds up in some form at an Electronic Products Recycling Association fully certified and audited facility.


More than 95% of what we receive is diverted from the landfill.
What is the difference between recycling my electronics at an EPRA-NL collection depot or with eWasteNL?
Either choice supports the free drop off and recycling of electronics, diversion from the landfill
and ultimately results in final processing at a downstream certified EPRA facility.
Acceptance of many items not covered under EPRA program guidelines including: Computer servers, small appliances, office equipment etc.
We offer a 50 per cent rebate of the EHF (environmental handling fee) for computers, laptops, tablets and cell phones only. Just bring your old unit to us (must be complete) along with your receipt for your new one (within 90 days of your purchase).
We would be pleased to discuss an electronics recycling drive with your school, church group or non-profit organization. What's in it for your group? A penny for each and every pound of electronics waste collected, which can add up very quickly - think about how much that old TV weighs!
Where can I drop off my eWaste or have it picked up?
eWasteNL
has convenient drop-off locations in Mt. Pearl (953 Topsail Rd.) Look for Drop off Bins located next to our Loading Dock. Items to Large for the Bins can be left right on the Loading Dock 24/7. Our staff will be pleased to help you offload between the hours of 9am to 3pm Monday to Friday.
We also offer free residential & commercial pickup in the St. John's Metro area (individual items may not exceed 40 lbs. for safety reasons).
EPRA-NL also operates ewaste collection sites in the metro area, as well as throughout the entire province.
For more information about eWasteNL, feel free to email us at eWasteNL@gmail.com or call 709-689-7402 anytime.