eWasteNL - Free Commercial pick up and recycling for your electronic waste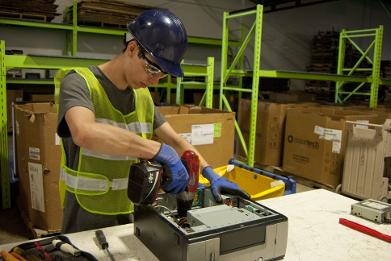 Computers ~ Cell Phones ~ Printers ~ Monitors and more!
Click here for the full details of what we take and recycle!
About Us
With over a decade of experience, eWasteNL is the only facility in the province that dismantles and processes (demanufactures) electronic waste (e-waste) right here in Newfoundland and Labrador.

Our customers receive respect and individual attention in our shared goal to reduce our environmental footprint through the recycling of unwanted electronics.
Services
eWasteNL makes it easy to have your commercial electronic waste recycled by offering pick-ups in the metropolitan St. John's region of Newfoundland and Labrador. Residential drop off bins available 24/7 at your convenience.

We also operate a drop-off location at 953 Topsail Road open 9am-3pm Monday-Friday - but consumers can leave electronics for recycling in our convenient drop bins 24-hours a day, seven days a week!
Testimonials
"Thank you for making it so EASY for us to get rid of a bunch of our stuff - without feeling like we were filling the landfills!" -- Jennifer Walsh, St. John's
"eWasteNL provided good, professional service in recycling of our old computers after the office went through an upgrade." -- DJW Solutions, St. John's